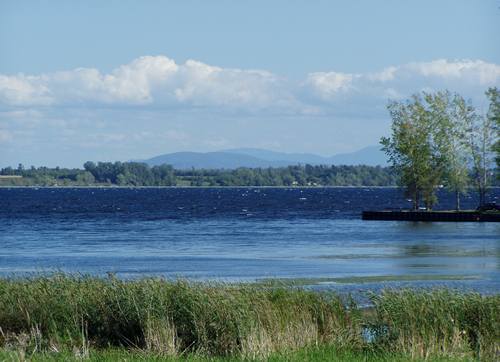 Cumberland Bay off of US 9, Vermont's Green Mountains in back
Plattsburgh is the largest city in Northern NY and is Clinton County's seat. It's population is around twenty thousand people. It sit on Lake Champlain and once had a large lumber mill industry too.The city boasts a major New York State, or SUNY college, Plattsburgh State and once had a large SAC Airforce Base. The old airforce base, right off the Northway at Exit 36, has been converted into a successful industrial park, called PARC.
It was founded in 1785 by Zephaniah Platt by a grant from Governor Clinton. The area had some French Canadian influence before the Revolutionary War. it was the scene of several notable battles in the Revolutionary and 1812 War, including Valcour Island and the Naval Battle of Plattsburgh. Valcour Island was a stunning naval battle won by us by the once brilliant and respected General Benedict Armold, before he jumped ship. The town used to host the huge Strategic Air Command Air Force base, which was closed in the nineties, as is the policy of the military to locate large bases in cheaper southern and western states. It also hosts SUNY Plattsburgh, a major part of the state college system.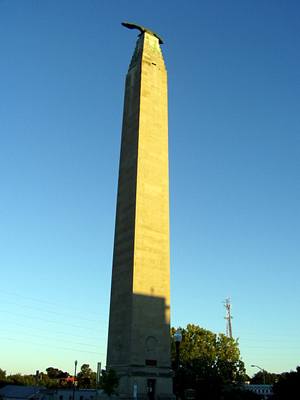 MacDonough Monument
Useful Links
City of Plattsburgh | The Plattsburgh Pipeline | Plattsburgh.com | Plattsburgh-Burlington Ferry Schedule | Champlain Shores Visitors Center
---
Participating Establishments
Clinton County
518 Area Code 12901 & 12903 Zips

---

Bart's Parts

Towing & Recovery Truck, Diesel Engine & Trailer Parts

265 US Route 11, Champlain NY 12919
Repairs, Towing and Recovery, all vehicles large and small, on or off the Northway from Keysville to the Canadian Border
Welding, logging equipment, heavy truck repair
We come ready to fix or tow anything!
Phone 1: 518-297-5270 | Phone 2: 802-868-5270

---




Days Inn + Suites of Plattsburgh, NY

8 Everleth Drive, off of Cornelia St., NY 3

(Next to the Exit 37 I-87 Ramps by the watertower)

Plattsburgh, NY 12901

Phone: 518-561-0403 FAX: 518-561-4192

---

Newly Renovated
Two-room w/Jacuzzi suites available
Free Deluxe Continental Breakfast with Waffle Station
Pillow-Top Mattresses
Coffee Lounge
Standard Room
Indoor & Outdoor Pools
Exterior Entrance
Business Suites
Fitness Center and Jacuzzi
HBO
Wireless & High Speed Internet Ports in Room
Truck and Bus Parking
Close to SUNY Plattsburgh, CVPH, Plattsburgh International Airport, shopping and restaurants
The Days Inn & Suites is just one hour from Montreal QB, Burlington VT, and Lake Placid.





---

Shady Oaks RV Park of Plattsburgh NY 70 Moffit Rd
Just off of NY Route 314 Just West of Exit 39 of I-87
Plattsburgh, New York,12901
Be Sure To Check Out The Cable TV, Cell Phone Availability & Free Wifi
We Can Accommodate Big Rigs With Slide-Outs.
Management On Site 24/7. Check-In Registration from 9AM to 9 PM
Nightly security gate provided Phone: 518-562-0561 E-mail

Open From May 1st to October 15th