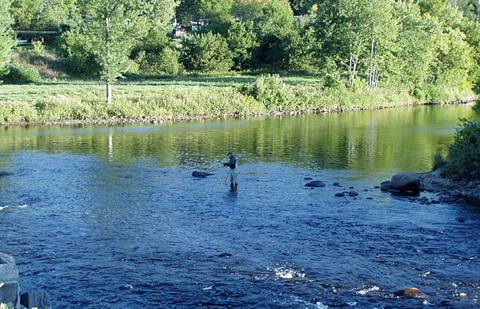 The confluence of the two branches of the Ausable River
Originally, it was part of Willsboro till 1798. It had the usual industries of the region such as iron, wood, farms, etc. Like a lot of the Eastern Adirondacks, it has colonial history, and its inhabitants fought in our glorious revolution against England.
If you head east on NY 86 from Wilmington-Whiteface, you'll reach its end at NY 9N in the hamlet of Jay, with Upper Jay about 4 miles south on NY 9N from Jay. But you will pick up the Ausable River again there to. If you turn left on NY 9N and head north, you'll soon reach the village of Ausable Forks, which straddles the river and the county line, part in Essex and part in Clinton Counties. It is billed as the gateway to the Olympics and the High Peaks, because of it's easy access to Placid, Keene and Whiteface. In Ausable Forks, the two branches of the Ausable River meet. It's popular with fly fishermen because you don't have catch and release rules as the Wilmington stretch.
The routes aren't too bad to Ausable Forks, a lot of bends on NY 9N as you start to follow the river. East of Ausable Forks, the road is pretty straight and fast, with lots of passing zones as it leaves the mountains and follows the broader and flatter river to Keeseville and Exit 34 of I-87.